Thursday, November 12 2020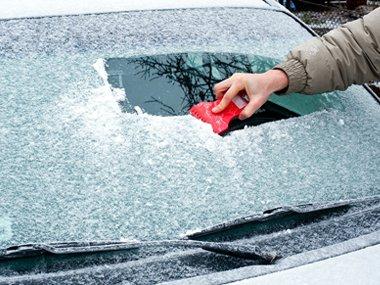 HOW ICE FREE WINDSHIELDS WORK
Posted on: Nov 2020
The idea of ice-free windshields has been around for quite a while, but it's never been totally perfected. Earlier editions of ice-free windshields had wires throughout them, sort of like an electric blanket. These were good at heating up and quickly melting away excess snow and ice, but the wires were a distraction to drivers.
It turns out that when the sun was low or when another vehicle was approaching with its headlights on, these wires could be seen by the driver and obscured visibility significantly. These earlier models were a far cry from what we would eventually come to see in the past few years.
Let's go a little bit more in-depth into just how the two generations of ice-free windshields differ, and where you can find the upgraded version near you.
Ice-Free Windshields: A Short History
Ford's Quickclear and Instaclear windshields were the first of their kind to gain popularity. The first one was released in 1985 in both the US and Europe. Although released for different models on different continents, the basic structure of the windshield was the same: extremely thin wire compressed between two layers of windshield glass.
The Failing System
On these older models, features like telephone antennas, GPS systems, and radar detectors were known to fail due to interference from the magnetic field generated by the wires.
They also took up high volumes of electricity to operate and would automatically switch off after just ten minutes of defrosting.
Wire Burnouts and Toll Troubles
Another issue with the older versions of ice-free windshields was that sometimes the heating elements on one side of the windshield would simply stop working. This would lead to only half of the windshield being unfrozen and was usually a result of burnout in the wires.
In this case, the entire windshield would have to be replaced because the wires were deeply embedded in the glass and were not able to be taken out. Sometimes, however, the power cable would come loose and get dragged along with the windshield wipers, causing it to eventually wear out.
For drivers who commonly went through toll booths, these windshields could be problematic as well. The tollway recording tags usually met with serious problems unless they had been specifically placed in the exact correct spot right behind the rearview mirror.
Despite being introduced in both the US and Europe neither market took to these windshields, and they fell out of the public eye.
New and Improved Ice-Free Windshields
Until now, there was no effective alternative to this early model. Now, a much-improved ice-free windshield was recently unveiled by companies like Volkswagen and others.
The Strength of Silver
This new updated version does not use wires to heat the windshield, instead opting for a thin layer of silver that is responsive to electrical currents. All you have to do is press a button and the silver heats up, melting snow and ice off your windshield. The wipers included with this new windshield also feature heating elements intended to prevent the wipers from freezing to the glass.
This latest edition to the ice-free windshields family is revolutionary for many reasons. It comes in at a record low $365 for most models. But melting the ice and snow off your windshield isn't the only thing its good for.
Shielding the Sun
The silver layer inside the windshield also acts as a sunshine reflector, keeping your vehicle much cooler during the summer months. You won't have to worry about this windshield draining your battery either, because it only takes up about 400 to 500 watts of electricity on average.
Volkswagen is currently offering this windshield on a variety of different models including the Golf Sportsvan, Passat, Sharon, Tiguan, Golf, and other Passat variants.
LIBERTY LAKE AUTO GLASS HAS YOU COVERED
Windshield accidents happen often, and whether you have a heated windshield or a regular one, Liberty Lake auto Glass has the exact replacement windshield you need! We specialize in mobile repair and our experts can get you fixed up in no time.
You don't have to worry about high prices either, as our prices are generally lower than the rest. We'll even work with your insurance company and bill them directly.
At Liberty Lake Auto Glass, we understand that life happens fast, and unexpected problems can arise before you're ready for them. That's why we offer the best service we can at the fairest prices you can find in Spokane, just to make your life a little bit easier! With the Spokane Auto Glass Experts on your side, you can Trust your new window or windshield will be done right.
Covering all of Spokane - Post Falls and Coeur d'Alene! '
Cunning & absolutely Cool: VW's Silver-Embedded, Thermally-Flexible Auto Glass

So do you equally dread the summer and winter in your car? With one season leaving you sweltering hot and the other a numb-fingered frosty the snowman courtesy of all those ice scraping endeavors? Well then get a load of this!! Good old VW has discovered what they are calling a "better way to window". They are Installing a thin, invisible layer of silver right there within windshield glass to offer a reflective surface that kicks-back an estimated 60% of the sun's rays in the summer and adds to some fast snow and ice removal in the winter months with a bit of added electricity. Will other manufacturers hop-aboard? Only time will tell - But as the Spokane auto glass experts, we are keeping an eye on this one! Wonder if this adds any strength to the mix? Im excited to see how this turns out.. Anyone got a VW we can try this on? :-)
So is it time for a new windshield for you? From low-tech, show-stopping classic cars, to today's breathtaking paragons of high-tech sport luxury; The Spokane auto glass experts here at Liberty Lake auto glass have all your automotive window glass needs covered. Contact us and schedule your Free Mobile, curbside service today.
https://www.LibertyLakeAutoGlass.com
Subscribe to this blog's feed