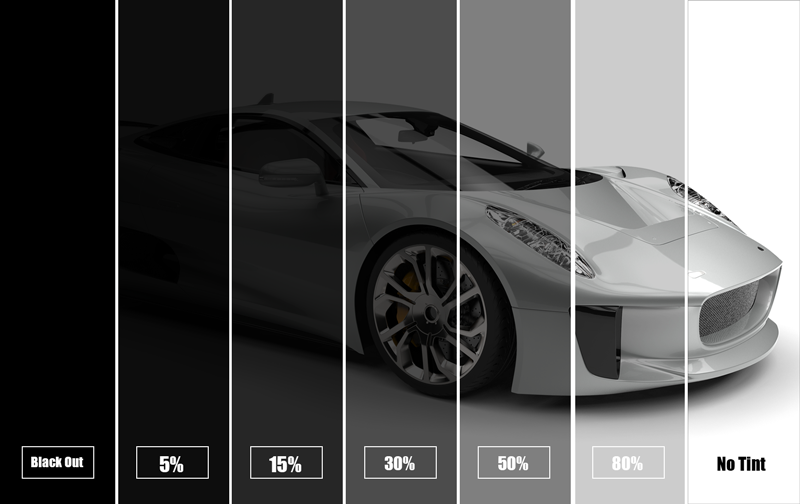 5 THINGS YOU NEED TO KNOW BEFORE TINTING
People enjoy tinted windshields for many reasons. While some like to further accentuate their exterior window appearance, others do it for more personal reasons, like health. Keeping yourself well-shielded from the harsh ultraviolet rays of the sun is a popular reason for the tint treatment.
Tints are great! However, there are factors one must be aware of before purchasing tinted windows. A windshield/window tint job is expensive, so you ought to know everything you can before you finally make your mind. If you're still deciding, here are some key factors to consider when buying tints for your vehicle:
5. Know the Different Types of Tints
There are, of course, many types of tint available. Metallic tint possesses reflective qualities and is good for reflecting harmful UV rays right off. This reduces heat and giving you some privacy.
But metalized tint paper will become a nuisance in the long run as it disrupts electronic signals. On the other hand, traditional, non-metallic tints are ideal for vehicles that come with high-tech navigational systems and electronic amenities. But normal tints don't perform well when it comes to blocking UV rays and keeping the car cool.
4. Tint Warranty Coverage
A majority of top-notch tints come with a limited lifetime warranty. But it is vital that you confirm the precise time-period of the warranty and all the 'strings attached' prior to buying the product. Ensure you get a manufacturer's warranty and have it filled out by the person installing the tints.
You need to be sure whether you can tint your vehicle. If the installation isn't legal you will not be able to claim your warranty. Talk to the vendor about the rules and regulations and confirm the information yourself before moving ahead.
3. Windows Tints that Suit Your Car</h2
To buy a quality product for your ride, it is critical you first consult with a reputed window film vendor or dealer. Renowned businesses have a stockpile of different shades, colors, types, and styles of tints available. Plus, they are experts: they know what tint is going to perform best and look good on your car!
2. Which Vendor is Ideal for You?
Don't ever think of compromising quality over price and installation expertise. There are a lot of companies you can sift through in your area. It is still important to narrow down your list to the top three vendors. Read and compare reviews and prices. Gauge the company's reputation and look at any videos they have posted tinting a car.
1. Tinting Laws
Before even considering getting a tint-job for your ride, you need to first do some solid research on your areas tint laws. It is critical that you adhere to all traffic rules and regulations, and not break any laws unintentionally or because of negligence.
Tint laws vary from state to state – which is why you should complete a simple internet check for potential restrictions. The regulations imposed would either be police or inspection-enforced.
One should also consider the tint percentage regulations, as well. These rules are primarily based on your vehicle's make and model as well as which window you plan to tint. Lower percentage tints are permitted by law on rear mirrors. Sure, tinting vendors have 'a good idea' about local laws, but don't rely on them completely!
Older vehicles have different tint laws. While older cars are permitted to have a low-tint level of 20%, new rides are sold with 70% stock-tint.
---
In all, this is absolutely everything you need to know before getting a first-class tint! But remember, respect the law and make sure you're not accidentally breaking it – never rush into making a tint-related decision!
For any Window replacement needs - call (509) 218-4978
Or
www.Spokane-Auto-Glass.com
Cunning & absolutely Cool: VW's Silver-Embedded, Thermally-Flexible Auto Glass

So do you equally dread the summer and winter in your car? With one season leaving you sweltering hot and the other a numb-fingered frosty the snowman courtesy of all those ice scraping endeavors? Well then get a load of this!! Good old VW has discovered what they are calling a "better way to window". They are Installing a thin, invisible layer of silver right there within windshield glass to offer a reflective surface that kicks-back an estimated 60% of the sun's rays in the summer and adds to some fast snow and ice removal in the winter months with a bit of added electricity. Will other manufacturers hop-aboard? Only time will tell - But as the Spokane auto glass experts, we are keeping an eye on this one! Wonder if this adds any strength to the mix? Im excited to see how this turns out.. Anyone got a VW we can try this on? :-)
So is it time for a new windshield for you? From low-tech, show-stopping classic cars, to today's breathtaking paragons of high-tech sport luxury; The Spokane auto glass experts here at Liberty Lake auto glass have all your automotive window glass needs covered. Contact us and schedule your Free Mobile, curbside service today.
https://www.LibertyLakeAutoGlass.com
Subscribe to this blog's feed